Numb
The wait is over
Let's get your skin right.
You've already picked the artist and booked the session, now it's time to numb your skin.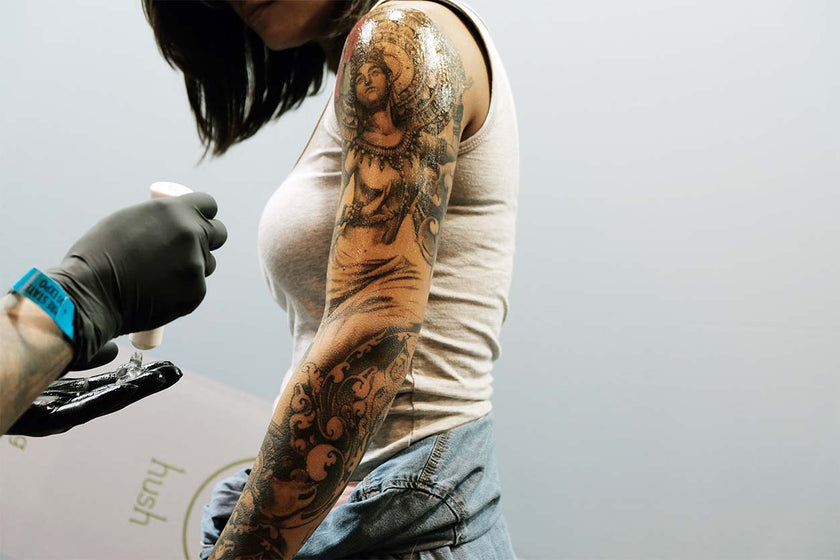 TATTOO NUMBING GEL
Non-greasy, water-based formula developed to numb the skin without compromising your body art. A unique blend of botanicals reduces irritation and inflammation. Includes menthol for counter-irritant benefits. 
Key Features
Paraben & Epinephrine-Free — No artificial preservatives here.
Fragrance-Free — No irritating artificial perfumes here, either. 
Lidocaine — Maximum numbing so you won't feel a thing. 
Natural Ingredients:
Aloe Leaf Extract: A natural moisturizer with soothing properties that helps reduce irritation and boosts collagen production. Aloe's cleansing properties help protect and cool your skin. 
Green Tea Extract: Polyphenols, alkaloids, and L-theanine provide soothing antioxidant properties. 
Comfrey Extract (Symphytum Flower): Helps new skin cells grow and makes your skin softer.
BUY NOW
Tattoo Numbing Cream
This is the way. Yes, anyone with sensitive skin can jump straight to our Tattoo Numbing Cream. You can have your tattoo and admire it too (without a whole bunch of unnecesssary pain) when you choose and use our Tattoo Numbing Cream. 
Maximum strength lidocaine helps numb those nerve endings while a powerful blend of botanical ingredients helps to calm irritation. We ditch the parabens and epinephrine to reduce the chance of dryness or irritation.
Lidocaine — Bring on the skin numbing, fast, and totally block those pain signals
Natural ingredients — Aloe extract with natural soothing, cleansing, and cooling properties, calendula extract to reduce redness and swelling, and green tea extract for rich antioxidant benefits.
Paraben and Epinephrine-Free — No one needs these common skin irritants, you're better than that. 
Menthol-Free — To keep your skin from overreacting (this works better in aftercare anyway)
Directions: Evenly spread a thick layer directly onto your skin. Cover with plastic wrap. For best results, apply one hour before your tattoo session for maximum absorption.
Buy now