CBD FOAM SOAP
Developed specifically for tattoos. Remove surface bacteria and protect new tattoos against infection. Minimize pain and swelling with essential fatty acids, anti-inflammatory properties, and natural botanicals.
Non-Psychoactive & THC-Free
Regenerates Impacted Skill Cells
100mg of Organic CBD
Natural
Ingredients
Grab a bottle
"I'll never get a
tattoo without it!"
"I'll never get a
tattoo without it!"
See Reviews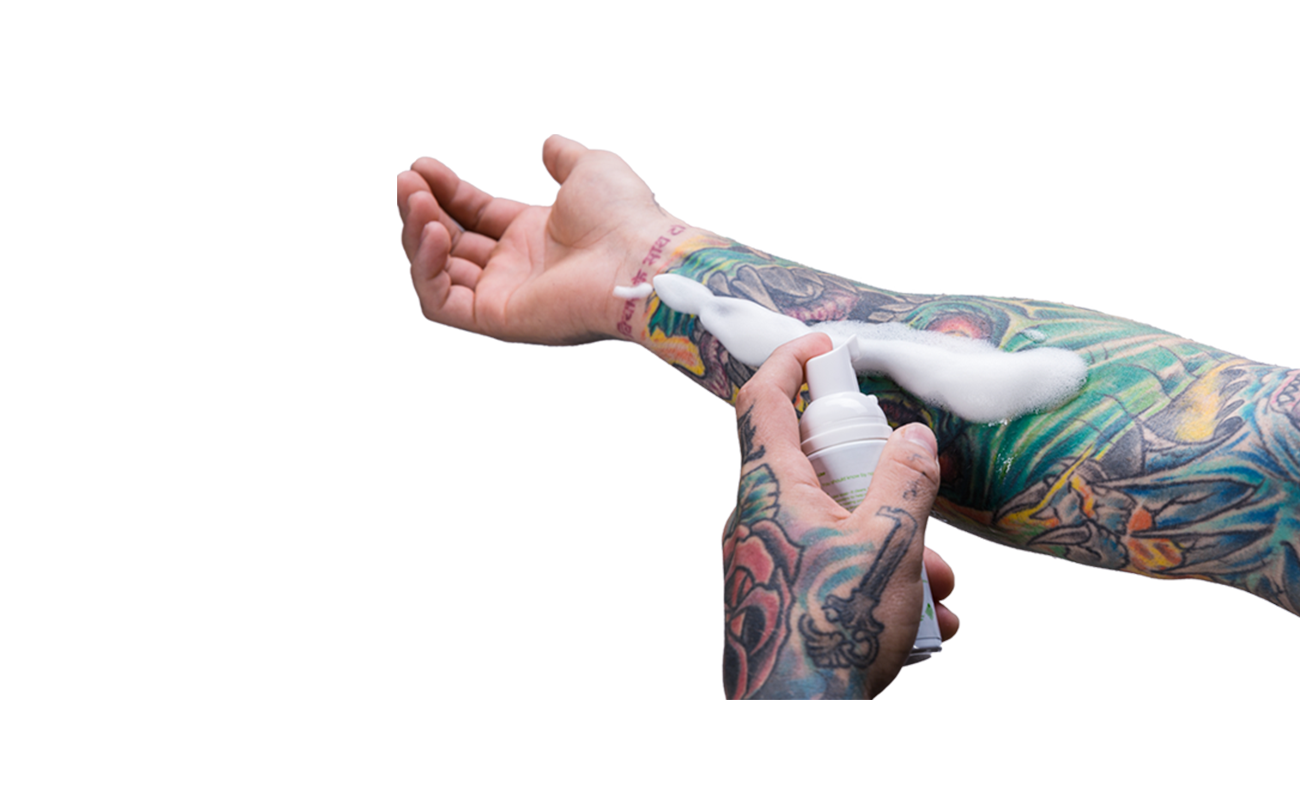 PRODUCT DETAILS
PRODUCT DETAILS
Apply directly onto your new tattoo. Allow the formula to absorb for 60 seconds. Pat dry with a clean paper towel. Repeat as necessary.






Ingredients with a Purpose

Every ingredient that goes into Hush benefits you. Here're some of our favorites:




CBD Extract (Cannabidiol):

Naturally hydrates your skin and combats irritation, swelling, and discomfort.

Glycerin:

Softens the skin and increases moisture.

Disodium Laureth Sulfosuccinate:

Removes dirt and lifts oils.

Aloe Leaf Extract:

A natural moisturizer with soothing properties that helps reduce irritation and boosts collagen production. Aloe's cleansing properties help protect and cool your skin.

Marigold Flower Extract (Calendula):

Reduces redness and swelling with natural cleansing properties. Helps support your skin's healing process.

Chamomile Extract:

Helps tattoos dry and heal quicker. Natural soothing properties reduce swelling and redness.

Green Tea Extract:

Polyphenols, alkaloids, and L-theanine provide soothing antioxidant properties.

Comfrey Extract (Symphytum Flower):

Helps new skin cells grow and makes your skin softer.
Tattoo Pain Chart
Tattoo Pain Chart
Levels to the Ink
Pain Level:
We numb.
You relax.
Art Happens.
Need
something else?
Need something else?