Tattoo Numbing Spray For Healing
Developed specifically for tattoos. Relieve pain with fast-acting lidocaine-based formula. Antiseptic agents help prevent infection. Blended botanicals provide additional protection against bruising & swelling.
Paraben & Epinephrine-Free
Natural
Ingredients
Fragrance-Free
4%
Lidocaine
"I'll never get a
tattoo without it!"
"I'll never get a
tattoo without it!"
See Reviews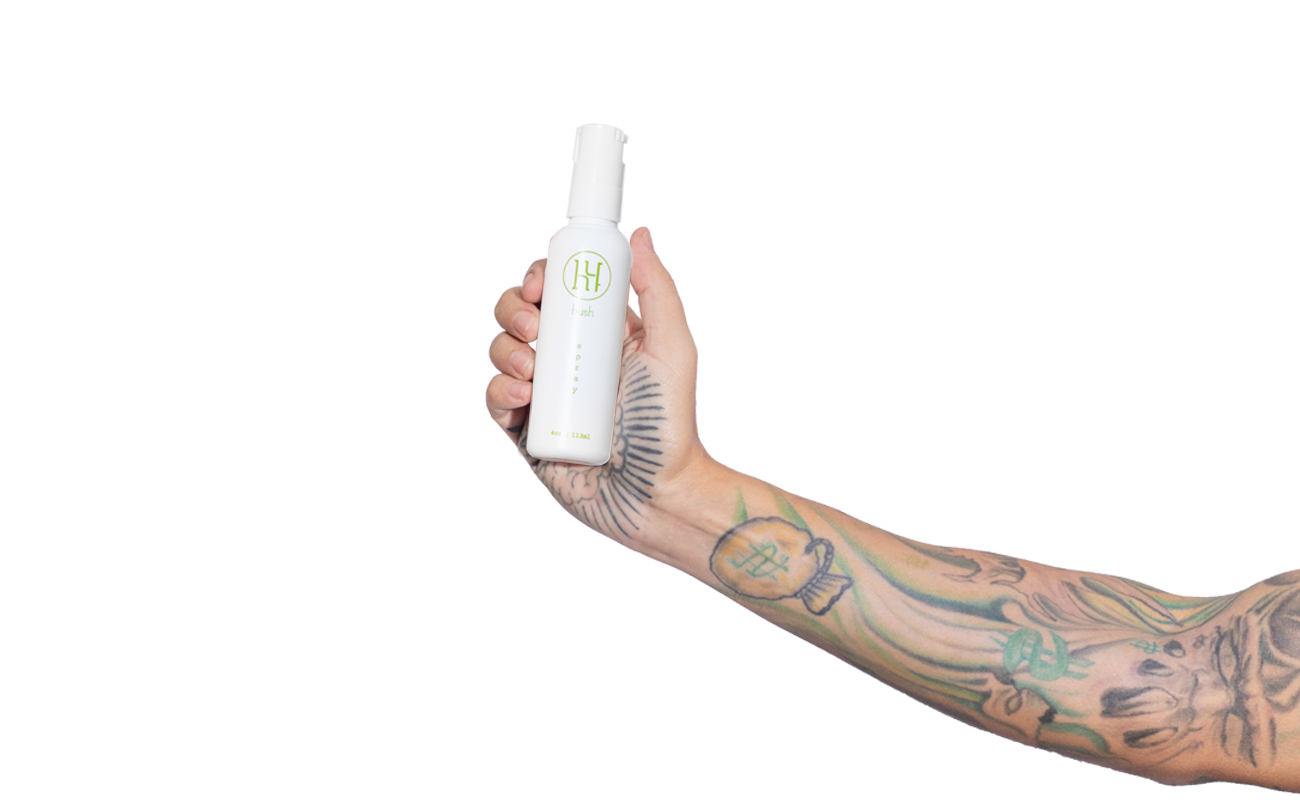 PRODUCT DETAILS
PRODUCT DETAILS
Apply directly onto your new tattoo. Allow the formula to absorb for 60 seconds. Pat dry with a clean paper towel. Repeat as necessary.

Ingredients with a Purpose

Every ingredient that goes into Hush benefits you. Here're some of our favorites:

Lidocaine: Causes loss of feeling in the skin and surrounding tissue. It blocks targeted nerve endings from sending pain signals to your brain.

Aloe Leaf Extract: A natural moisturizer with soothing properties that helps reduce irritation and boosts collagen production. Aloe's cleansing properties help protect and cool your skin.

Deionized Water: Purified aqua flushes out toxins.

Marigold Flower Extract (Calendula): Reduces redness and swelling with natural cleansing properties. Helps support your skin's healing process.

Chamomile Extract: Helps tattoos dry and heal quicker. Natural soothing properties reduce swelling and redness.

Green Tea Extract: Polyphenols, alkaloids, and L-theanine provide soothing antioxidant properties.

Comfrey Extract (Symphytum Flower): Helps new skin cells grow and makes your skin softer.

Glyverin: Softens the skin and increases moisture.
How Long Does Tattoo Numbing Spray Last?

Our HUSH Numbing Spray contains lidocaine as a main active ingredient. Lidocaine numbs the skin when applied directly to the tattooed area. It works by blocking nerves in the skin from sending pain signals to the brain.




The effects of lidocaine itself can last up to three hours typically. However, it all depends on the person using it. It could be slightly longer or shorter before the effects wear off.




How to Use Lidocaine Numbing Spray

To use the lidocaine numbing spray, apply a spritz or a two to the tattooed area. How much you apply depends on the size of the tattoo. Make sure to coat the skin with a thin layer of product evenly.




Do not touch your skin after spraying. Instead, give it 60 seconds or so to absorb into the skin. After this minute, gently pat the area dry with a clean towel or paper towel. Repeat every few hours or as necessary.




The numbing spray works best alongside the rest of our HUSH Aftercare Set. The set includes CBD Foam Soap, CBD Healing Balm, and our Healing Spray. This combination will set you up for success in the tattoo healing process.




How Long Does Lidocaine Numbing Spray Take to Work?

A lidocaine-based numbing spray begins to work 30 to 60 minutes after application. You can tell it's working when your skin feels numb to the touch in the sprayed area. The numbing spray is especially helpful when used after tattoo appointments.
Tattoo Pain Chart
Tattoo Pain Chart
Pain Level:
Pain without Hush
Ouch
Damn
Sh*t
F*ck
We numb.
You relax.
Art Happens.
Need
something else?
Need something else?